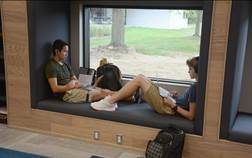 Project Highlight: Greenhills School New Library
Quiet study spaces. Up-to-date technology. Collaborative learning areas. All of this and more is now available in the reimagined Harry Anderson Library located at Greenhills School, a private middle and secondary school in Ann Arbor, MI. Designed by Integrated Design Solutions (Troy, MI), the J.S. Vig project team consisted of Valerie Vig, Project Manager, Kris Mackmiller, Project Superintendent and Sue Hasson, Project Engineer.
"My favorite feature of this new library is the window study pods," reports Sue Hasson, J.S. Vig. "They offer a unique blend of privacy and connectivity to both the outdoor environment and the greater library space."
Other features of this 5 month transformation include a new vibrant color palette, flexible furnishings and a drop-down video screen, providing Greenhills students with the tools they need in their pursuit of knowledge and academic success.
J.S.Vig was proud to be selected to help bring this remarkable vision to reality!