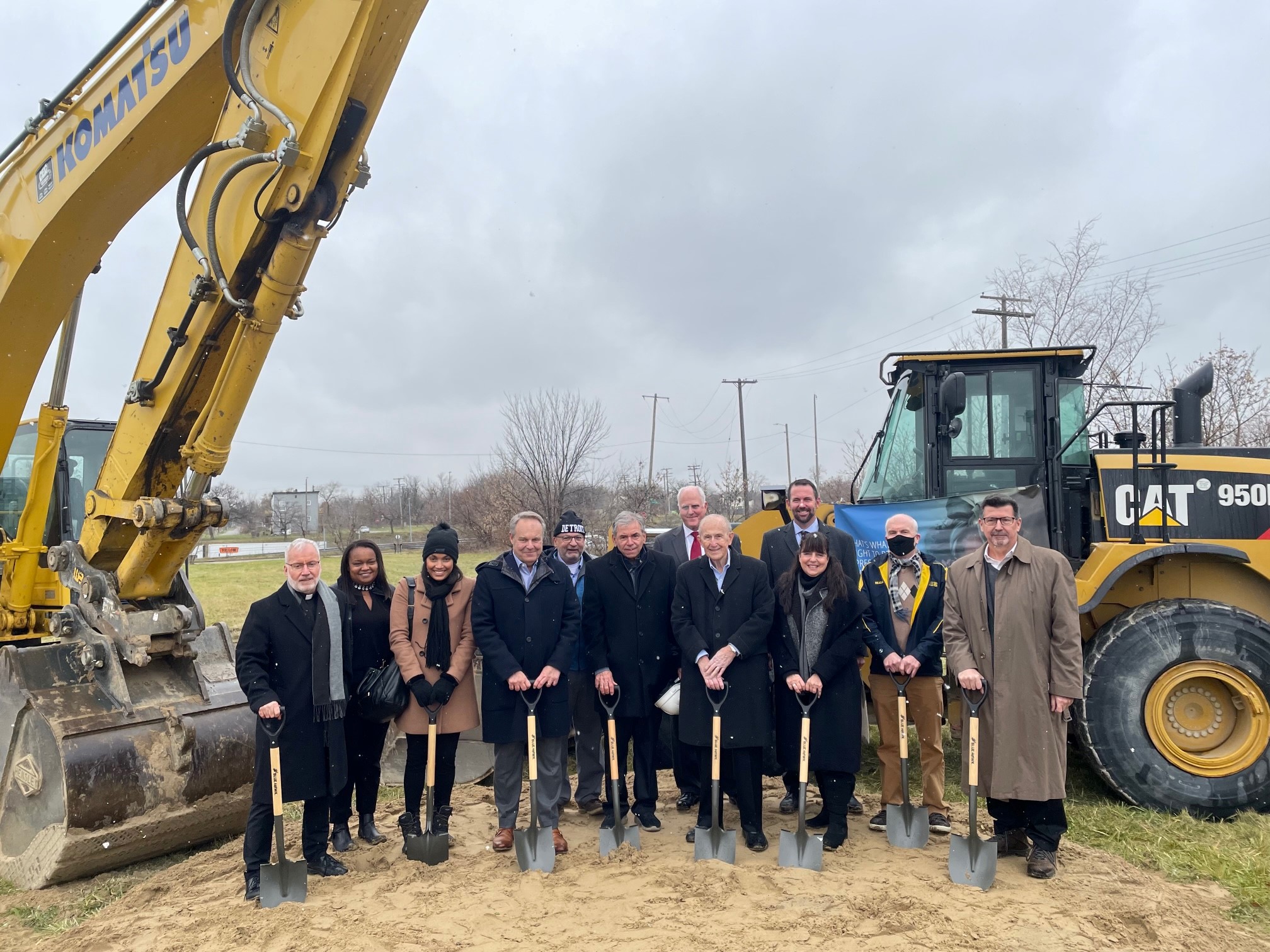 J.S. Vig honored to build new Bridge Housing Project
Article derived from Detroit Free Press
DETROIT, Mich., Dec. 3, 2021 — A Detroit non-profit that helps unhoused people took a big step Friday toward executing an audacious long-term plan to eliminate chronic homelessness in Detroit by 2030.
Father Tim McCabe, executive director of Pope Francis Center, led the groundbreaking of a Bridge Housing Campus that will provide 40 studio apartments as temporary shelter to people for 90 to 120 days. The project will include social and job-preparation services as well as comprehensive medical care that covers physical, psychological and addiction needs.
See conceptual drawings of the new Bridge Housing Campus: Bridge Housing Campus – Fusco, Shaffer & Pappas, Inc. (fuscoshafferpappas.com)
Year after year, city officials have been discouraged to see 2,000 people looking for a warm safe place to sleep on any given night, Mayor Mike Duggan said Friday. "How is this progress? We had built here, and really across America, a network of 24-hour homeless shelters," he said.
While praising efforts to get people off the street for a night and feeding them, he questioned the wisdom of just returning people to the streets in the morning. "What if we didn't treat these individuals as emergency charity cases we had to get through the night?" the mayor asked. "What if we treated them as people with talents and abilities and dreams of their own."
Now Detroit is focusing on treating conditions that lead to homelessness, Duggan said.
5.3 acres of vision
People who stay in these studio apartments will eventually transition to permanent supportive housing. Pope Francis Center staff already helps people gather documentation needed to access permanent housing.
The facility — which is bordered by West Hancock Street, Lawton Street and the Jeffries Service Drive — is targeted to open in mid-2023. Residents of the surrounding Core City neighborhood will have access to the health clinic, recreational facilities including an art studio, as well as life skills courses and a computer lab.
Construction on the 5.3-acre campus is expected to begin in early 2022.
'Not about Band-Aids'
Ford CEO Jim Farley, a longtime volunteer and financial supporter of Pope Francis Center who lives downtown, attended the groundbreaking — hard hat and shovel included.
"We have to deal with the root cause, the whole person," Farley said. "When I was 16, I was very close to my grandfather, who was very proud to be from Detroit. We got up one morning and went to Saint Peter and Paul Jesuit Church to feed the hungry. I remember he said, very simply, 'Jim, it's about loving thy neighbor as thyself.' Back then, it felt like you were giving something. But, actually, I learned very quickly it was the opposite."
He added, "The Band-Aids aren't enough anymore. We have to deal with the root cause, the whole person. That's why we're here. This facility that will stand on this ground is intended for that … It's not about Band-Aids. It's about the whole self."
For the full Detroit Free Press article, please see Detroit housing project led by Pope Francis Center, Ford CEO (freep.com)